Land-art project. sept-oct 2015
"Thinking of Paula"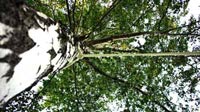 The samis have been oppressed for more than 700 years.
Their culture, language and religion, has been persecuted in all ways during the centuries by the Christians.
To originate from the samis has through history caused trouble in the scandinavian societies and many people have denied their culture in shame.
My grandmother was an immigrated from Finland. She and her mother were both called witches by the surrounding society.
They traveled around in the south. I was told that she came from the very north. I don´t know. She didn´t know either.
What is etnical identity? Her heart was always in Finland though there were no people left that she knew.
To honour my grandmother, I cooperated in this project with a birch tree and tighed a rope from it to a great stone.